INSPIRATION PROVENCE
This new ESCADRILLE season was imagined with Provence as the perfect backdrop, with our photo-shoot taking place at the wonderful hotel Les Cabanettes, in Arles. Provence is a region that conjures up all sorts of images and fantasies, wild and pure beauty, but also immense creativity. Provence has many facets, a rich history and a fascinating culture. And that light! The light of artists and poets. We've been dreaming about Provence, and here are a few ideal postcards, some of our favourites, daily dose of inspiration to design espadrilles that are perfect for strolling through village squares or exploring the garrigue.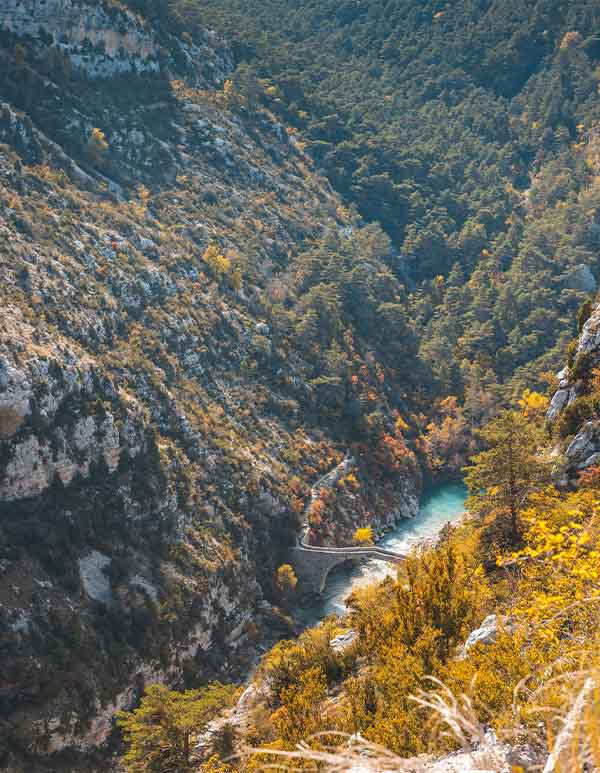 HERBS OF THE GARRIGUE
When we were schoolchildren reading Marcel Pagnol, we had very specific images of Provence, and in particular those of the garrigue, plants and shrubs low to the ground in a steep, semi-arid landscape into which Manon des Sources ran. Why such low shrubs? Because the smaller you are, the less water you need!
The perfumes of this garrigue are all contained in the Provençal herbs that we use without asking too many questions. But did you know that 90% of the herbs we buy are 'fake' recipes from imported ingredients that have little to do with Provence? And yet there is a Label Rouge des herbes de Provence that is very precise about this recipe and the provenance (solely Provençal) of this incredibly fragrant blend enhancing any ordinary dish: 19% rosemary, 27% thyme, 27% savory, 27% oregano, and that's all!
Why are these plants so fragrant? Because they grow in a very dry environment, releasing lots of essential oils to counteract the lack of water.
You can also prepare the recipe yourself by collecting the plants you need (but never uproot the plants) during a walk in the Garlaban foothills, Marcel Pagnol's favourite spot, for example. The herbs are then left to dry flat for a fortnight, after removing the small branches, leaves and impurities.
IN A LAVENDER FIELD
In June, Provence will be covered in unbelievably photogenic mauve flowers, fields buzzing with bees and an intoxicating, precious scent. This Provençal gold will fill market stalls with the scent of lavender, and busloads of tourists will flock to the most beautiful spots to admire it. Lavender conjures up memories of childhood, a few drops of essential oil on a sore spot, the honey we used to put on our after-school bread or the little sachets we'd find in drawers. And, even more delightful, the spindles of flower and stem delicately woven together in a satin ribbon, which we saw in bunches blooming on the tables of the beautiful houses of Provence.
An intoxicating flower with a thousand virtues, cherished by perfumers and inventive cooks (lavender ice cream is delicious!). There's still time to plan a few days to take advantage of its full flowering before the harvest begins (between early and mid-July), to let yourself be bewitched by a sunset flooding a lavender-covered field with a golden glow. Try your luck in Sault, on the Valensole plateau (north of Aix-en-Provence), or of course at Notre-Dame de Senanque, the icon among them all. Only hoping we will be alone to enjoy this spectacle, but nothing is less certain!
THE MOUNTAIN AND THE PAINTER
This is the story of an obsession, a love affair too. That of Paul Cézanne's love affair with the Montagne Sainte-Victoire, which rises between sheer cliffs and mysterious paths to an altitude of over 1000 metres to the east of Aix-en-Provence. Painters and Provence have met and produced masterpieces. But it seems that the story of Cézanne and this mountain goes beyond that. Like his beloved muse, he painted it, in oil or watercolour, tirelessly (over 87 canvases!), particularly in the latter part of his life. He had settled on the heights of Aix and only had to climb to the top of the hill behind his house to see it.
So why paint it again and again? To capture the eternity of the landscape, perhaps, to try to penetrate its secrets, its fluctuating light, never the same, between greys, oranges, blues and pinks; to set down his vision, a work that was never finished, always in search of its beauty, its uniqueness, that he had to try to capture. We love the idea of a silent dialogue between one of the world's greatest artists and the teasing nature that eludes and continues to amaze, even if we think we know everything about it. The montagne Sainte-Victoire, a symbol of Provence, of its light, and of its landscapes of which we never tire.
THE POETRY OF THE WINDS
The identity of a region can also be defined by its winds and the legends associated with them, and in Provence some of them convey images that are deeply rooted in the imagination. How can we forget the powerful mistral, which rushes through the Rhône valley and jumps into the Mediterranean? Its name evokes lilting accents, rising skirts and flying hats, and even if it's cold and capricious (it's even said to drive people mad!) as it passes, the clouds disappear and the light becomes magical. An eternal source of inspiration for painters and writers, it gives its identity to an entire region, and its generous sunshine.
If the mistral is the most famous of the winds of Provence, we also love the exotic sirocco, a rare southerly wind that brings rains of Saharan sand in its wake, covering the hills with an ochre dust that promises tales and sumptuous legends. And the delicate white sunrise, a gentle easterly wind that blows in fine summer weather to make you forget for a moment the bite of the sun.
The Greeks and Romans made no mistake when they referred to Provence as the place where the winds are born – a wildly poetic designation!
THE VILLAGES IN LUBERON
It's impossible not to think of Provence without mentioning its villages, particularly those in the Luberon. Postcard fantasies that have made this region famous the world over. Often perched on their promontories, they can be seen from afar, with their ochre, beige or pale grey facades and pastel-coloured shutters. You'll inevitably come across the village square with its fountain, the café terrace in the shade of the plane trees, the belvedere where you can admire panoramic views of vineyards, olive groves and almond trees. And the markets are like tableaux vivants. And yet they are all different, all charming, all drowsy under the bite of the sun from a certain hour in summer, and all vibrant with joie de vivre when night falls.
So which are the most beautiful? We wanted to name 3 or 4, but we couldn't even manage to limit ourselves to 10, impossible to choose, here's our list of the 13 most beautiful villages in the Luberon, each one wonderful in our opinion!
Lacoste
Gordes
Roussillon
Saignon
Seguret
Lourmarin
Oppède-le-Vieux
Menerbes
Bonnieux
Saint-Saturnin-Lès-Apt
Goult
Ansouis
Venasque
We'd love to leave for a trip to Provence, starting immediately!