Escadrille's flat espadrilles: 2 models, 2 styles
THE CLASSIC SOCOA MUSTARD-YELLOW ESPADRILLES
Mustard in all its different shades is THE color of the moment and can be found everywhere from fashion to home decor. Always with its finger on the pulse, Escadrille has released its Socoa flat espadrilles in a soft yet bright shade of honey yellow.
From spring through fall, we love these mustard espadrilles, which will set off your tanned skin and bring some warmth to your wardrobe. They are easy to match with colors like burgundy, navy blue, denim, black, cream, brown and even gray. Your Socoa mustard espadrilles will go just as well with skinny or boyfriend jeans as with a dress, skirt or shorts. Simply pick your favorite look from the endless options available.
While this canvas design may look like a classic espadrille shoe and have a more casual style, you can be sure that the modern and on-trend mustard shade will turn heads!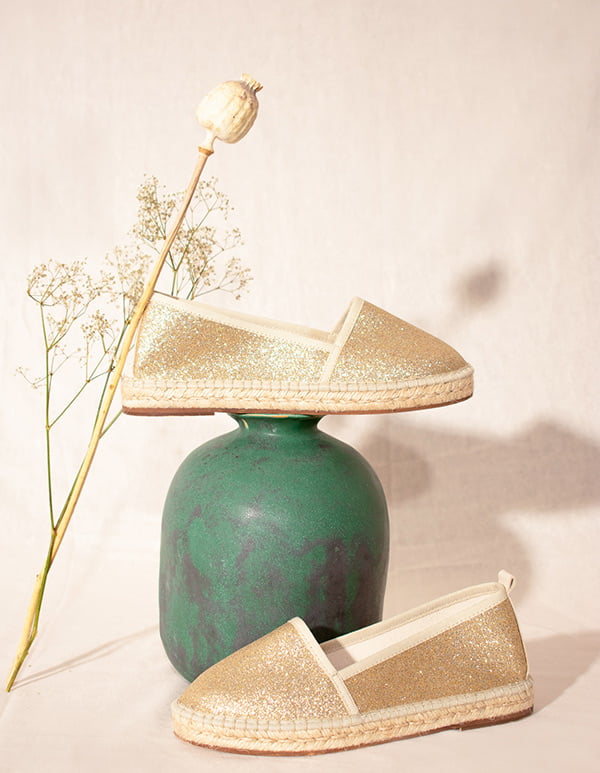 THE IRRESISTIBLE PALOMA GOLD SPARKLY ESPADRILLES
The Paloma gold espadrilles offer a whole other mood and inspiration with their iridescent and ultra-feminine leather-effect fabric. The combination of rope and glitter is just one of Escadrille's many daring contrasts that aim to cater to the latest hottest trends.
These flat espadrilles are dressed up in golden shimmer to give a chic and sophisticated glittery effect that can be worn with so many outfits. They lend themselves to both daytime and evening wear, provided you follow a few fashion ground rules.
For a daytime outfit with on-trend gold espadrilles like these ones, it's best to wear them with quite simple pieces or plain basics (avoid busy prints or any other sparkly pieces) to keep all the attention on your glittering feet.
Sparkly espadrilles are a safe bet for an evening out and will naturally enhance black items like a smart little dress, a tux, a jumpsuit or even a cute little top. You can make a nod to your gold espadrilles with a piece of jewelry, a clutch bag, or nail lacquer along the same line.
Whether you choose sparkly espadrilles or mustard espadrilles, Escadrille plays with the different seasons and styles to shake up footwear conventions and reinvent flat espadrilles.
So, which on-trend espadrilles are your favorites?