THE ESCADRILLE ADVENTURE
From taking over to developing the brand, and from the careers of the two women at the helm to their ambitions and dreams for the future, let's take a look back at the fascinating Escadrille story, an ambitious reinvention of the espadrille shoe.
A FAMILY AFFAIR: THE JOURNEY TO ENTERPRENEURSHIP AND ESCADRILLE
Today Elise and Florence perfectly embody the signature Escadrille style, but these two young women were not necessarily predestined to enter the world of entrepreneurship.
After studying in a range of fields that took her from an anthropology and sociology degree in London to a business degree in Nantes, France, and spending a number of wonderful years caring for her children, Elise was harboring a deep-seated desire to start her own business and dreamed of realizing her ambitions in an area that spoke to her own sensibility. When she met Georges (the original founder of the brand) and learned about the innovative Escadrille concept, she was able to make her dream a reality.
Elise's cousin Florence joining the Escadrille project was pure serendipity. After studying contemporary literature and classical drama and spending a number of years working in theater, Florence threw herself into the project with an invaluable combination of good humor and innovative ideas.
With a shared vision of fashion that is centered on French-style simplicity and elegance, they quickly found the perfect balance between their two personalities and come together to realize a single ambition: making Escadrille THE espadrille brand, high-end footwear that is comfortable, chic, and on-trend!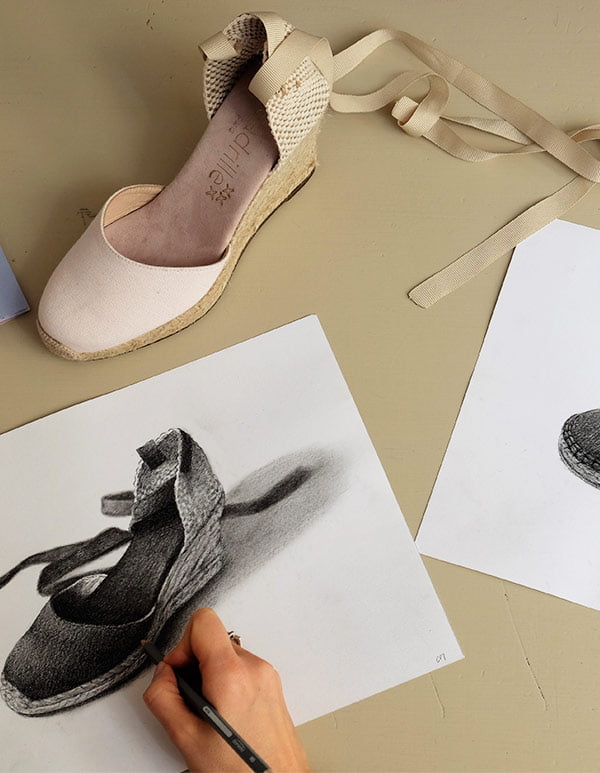 ESCADRILLE: A STRONG IDENTITY AND SET OF VALUES FOR AN EXCEPTIONAL SIGNATURE STYLE
Aside from the entrepreneurial drive that motivates both Florence and Elise, the Escadrille spirit is fueled by the brand's positioning and mentality, standing by all its decisions and making every detail count.
The brand's development strategy began with a clear objective: making Escadrille synonymous with a signature excellence and conveying a set of strong values.
Working long-termwith the same manufacturers and partners with whom they have created strong ties and maintain regular contact.
Consuming less and more responsibly by producing high-quality and sustainable
Maintaining a close relationship with the French stores that showcase Escadrille espadrilles and adopting flexible, advantageous partnership conditions.
Preserving the simplicity of traditional espadrilles while adding a very French high-fashion dimension with contemporary, on-trend creations.
Choosing authentic, ancestral artisanal manufacturing processes(from the Pays Basque) born of unique, exceptional expertise.
Putting a strong emphasis on hand-stitching and perfect detailing using the finest materials, which meets the highest of standards in quality and comfort.
Escadrille is so much more than simply a high-end espadrille brand, it's a story and a vision underpinned by ambitions of excellence.