When Alice Cheron, founder of Alidifirenze shares with us her most beautiful spots in Sicily and the Sicilian islands, we know we have gold nuggets to treasure. Alice is probably the epitome of cool Frenchness in fab Italy, she felt in love with a country and its people more than 10 years ago and now lives in Florence. She generously shares the Italian way of life through many great projects, including her famous Italian fugues to escape and take time for oneself in small groups of very inspiring women, like herself! Alice has been a great supporter of Escadrille and we love the friendship we share, so very precious. So, are you ready for a trip to Sicily and beyond with Alice ? Follow the guide !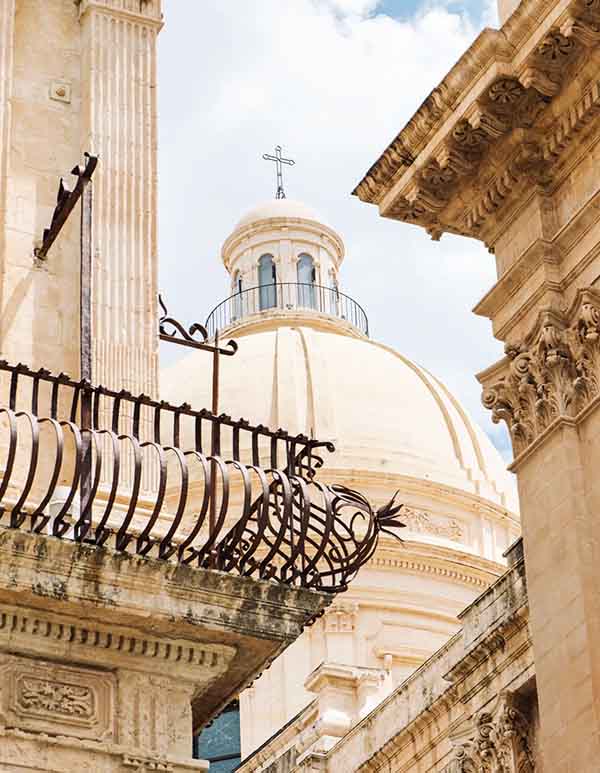 In Sicily, magical art cities and nature's wonders
In the pantheon of fantasy destinations, Sicily burns with a thousand fires, a melting pot of civilisations, cultures of breathtaking richness, sumptuous landscapes of land and sea, Italy's largest island has it all to satisfy the most jaded of travellers. It is an island with a strong character, as the Mediterranean knows so well how to produce, which exudes a joie de vivre which definition seems to have been invented for it. Alice takes us on a discovery trip to a few addresses promising unique experiences:
Radicepura, at the foot of Mount Etna
"An extraordinary garden that I discovered a few years ago while staying at the nearby Hotel Donna Carmela.
The Taormina Arena, Taormina
"Extraordinary experience to listen to a concert in these high perched arenas with a unique view of the sea."
La Cialoma Restaurant, Marmamemi
"On one side overlooking the main square (of Marmamemi) and on the other overlooking the sea with its pretty terrace, I had fallen for this family address. A village where long Summer evenings are a dream."
Circumetnea, Etna's wine train
"Wonderful excursion with this little historical train that allows you to discover the vineyards that thrive in this very special volcanic climate!"
Palazzo Trigona Suites, Noto
A sublime B&B in a wing of a private palace in the centre of Noto, an emblematic baroque village. A terrace offers a unique view of the Duomo.
Rossomano Grottascura Bellia Nature Reserve
"Improbable, the visit to the so-called "Pupi ballerini", rocks that are more than 3 metres high, on which the wind erosion draws shapes!"
In the mysterious Aeolian Islands
7 islands in the Tyrrhenian Sea, confetti of capricious and proud nature, of volcanic lands, of mysteries, of olive trees, caper trees and vineyards, of long lazy baths, of volcanoes whose activity we watch from the corner of our eyes. Panarea the chic, Stromboli the powerful, Salina the luxuriant, Filicudi the shy… each of the 7 has its own charm.
Signum, in Salina
"I dream of discovering the cuisine of the Michelin starred chef Martina Caruso! The decoration of the hotel that bears the same name is sublime."
Pinnanobilisail, Aeolian Islands Cruise
"Waking up in the morning in a new cove, diving before coffee, having a nap on the pontoon … and discovering Panarea or Stromboli. Pure dream!"
The wild and authentic Italy of the Egadi Islands
In the west of Sicily, very easy to reach from Trapani, and yet a completely different world, a different Italy, without frills. 3 main islands, Favignana, Levanzo and Marettimo, a simplicity of life that flows between enjoying small fishing villages and swimming in beautiful marine reserves.
"A boutique hotel on one of my favourite islands, Favignana in the Egadi Islands. You need to rent a scooter to get around easily and a license-free boat to discover the dreamy coves."
Pantelleria, daughter of the wind
Closer to Tunisia than to Sicily, Pantelleria is like a mysterious little piece of the moon that has fallen into the sea, with its black earth, its cactus gardens, its hot springs of volcanic water, its stone walls erected to protect the vines from the powerful winds that blow in from the Sahara, and the translucent sea that can be enjoyed by jumping into the water from the rocks. A real feeling of being at the end of the world !
Azienda Agricola D'Ancona, Pantelleria Island
"The oldest vineyard in Pantelleria that develops a local wine, Passito, that is incredible."